Once when I used to make bike trips from Islamabad to Lahore, I went to see the village Waris Shah was born and buried in: Jandiala Sher Khan. It's a small village surrounded by lush green fields, away from any highway. As I reached Waris Shah's shrine located just outside the village, it started to rain. The master wanted me to stay, I thought and spent a few hours there at the shrine and in the village, listening to sound of Heer that was being played by the music shops next to the shrine.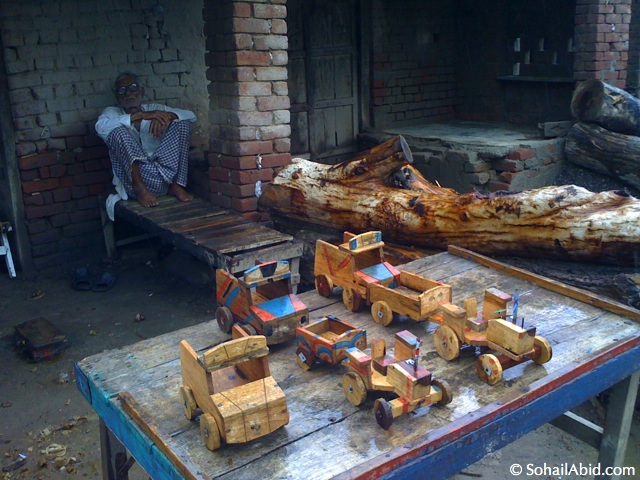 When looking for chai in the little bazar they have there, I found this baba jee sitting outside his woodshop, selling these little wooden toys. Standing there in the rain, looking at the display table while taking this photo, I wished he could sell this stuff to people who can't come to him — in a little village, away from any highway. Just yesterday, when I was looking at a photo Fauzia Rafique, a Punjabi writer, posted wearing a necklace she bought from outside Bulleh Shah's shrine in Rs. 15, this baba ji again came to my mind.
In Bahao, possibly the greatest novel written in Pakistan, Mustansar Hussain Tarar goes back to a time in the history of Punjab when towns were laid down next to rivers. At one point in the story, Paroshni, the main character, asks the bona fide artist of the town how does she create what she does? Where do the patterns she marks on the clay pots come from? "I don't know, they are just in me. That's the way my mother did it." was the artist's reply.
This is why I seek all things folk. This is why the ornaments being sold in Rs. 15 matter. This is why a guitar can never beat the dhol beats. Those patterns and sounds go deeper than we think.